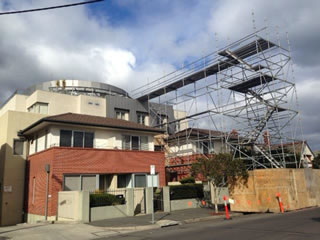 Project Review - Princess St Port Melbourne
MPR has recently started work on an insteresting project in Princess St Port Melbourne. This particular property has suffered from water ingress since its completion circa 1995. MPR has been engaged to rectify the problem which involves removal approx 120m2 of terrace tiling and screed so as to allow a new membrane to be installed, new screed and new tiling.
This property posed a unique challenge for our team with regards to access. The only way for us to remove the existing tiles and get new materials up to the terrace area was to construct a "bridge". This involved firstly the construction of a scaffold tower from the street then the bridge to run from the top of the scaffold, across the entrance and onto the top level terrace. Council loved this one but we got it through and works can now commence.